A resume is a tool used to demonstrate your suitability for the job-specific requirements of a career. This holds true with policing. Few people have received instruction on building a resume, or had much experience writing them. They don't understand what should or should not be included to present themselves in the best manner they can.
Resume building does not start at the writing stage. If you are serious about becoming a police officer, you should have a long list of volunteer experience, academic achievements, languages, computer skills and other highlights to place on your resume. If you don't, begin today. Many organizations, including food banks, charity organizations and Children's Aid Societies are desperate for volunteer help. Languages are vital to police forces, as are computer skills and any other life skills.
The main purpose of your resume is to frame your experiences, skills and knowledge in a manner relevant to the police service to which you are applying. You have to not only demonstrate what you've done, but also show that you have done it well. It is crucial to present information clearly and concisely so the person reviewing your resume can quickly find what they require. Three principles should be followed: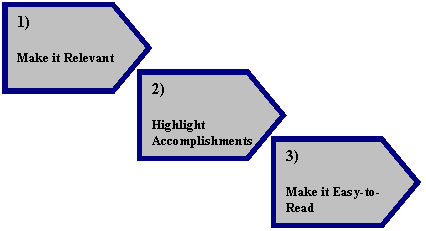 Principle One: Relevance
Police forces want to fill positions with people who fit their needs. It is important to determine what competencies are required for the job. Below is a list of core competencies that police forces are searching for.
| | |
| --- | --- |
| Analytical Thinking | The ability to analyze situations and events in a logical way, and to organize the parts of a problem systematically. |
| Self - Confidence | A belief in your capabilities and recognition of personal limitations. |
| Communication | You must have the skills to effectively communicate using listening skills and verbal and written communications skills. |
| Flexibility / Valuing Diversity | As a police officer, you will have to work with a wide cross-section of the community that includes diverse backgrounds, cultures and socio-economic circumstances. You must have the ability to adapt your approach to each situation. |
| Self - Control | Policing can be extremely stressful. You must establish that you can control your emotions actions when provoked. |
| Relationship Building | Developing contacts and relationships both within and outside the police service is extremely valuable. |
| Achievement Orientation | You must demonstrate a desire for continuous improvement in service and accomplishments. |
| Information Seeking | The ability to seek out and analyze information from various sources before making decisions. |
| Concern for Safety | The ability to exercise caution in hazardous situations in order to ensure safety to self and others. |
| Assertiveness | The capacity to use authority confidently and to set and enforce rules appropriately. |
| Initiative | Demonstrated proficiency to be self-motivated and self-directed in identifying and addressing important issues. |
| Cooperation | Willing to act with others by seeking their input, encouraging their participation and sharing information. |
| Negotiation / Facilitation | The ability to influence and persuade others by anticipating and addressing their interests and perspectives. |
| Work Organization | The ability to develop and maintain systems for organizing information and activities. |
| Community Service Orientation | Proven commitment to helping or serving others. |
| Commitment to Learning | Demonstrated pattern of activities that contribute to personal and professional growth. |
| Organization Awareness | A capacity for understanding the dynamics of organizations, including the formal and informal cultures and decision-making processes. |
| Developing Others | Commitment to helping others improve their skills. |
Many people squeeze everything into a resume hoping that something will click. Any material on your resume that does not exhibit traits from the list of core competencies the police service is looking for is a waste of space.
Do not include every employer on your resume unless you are specifically asked to provide that information. Many police services require an employment history application. Pick out the most relevant positions you have had and focus on demonstrating the qualities. Any additional information such as Activities, Volunteer Experience, Education, or Special Skills should also demonstrate your competencies.
Principle Two: Highlight Accomplishments
Accomplishment statements should give the police service an indication of how well you performed. It should reveal not only what you did, but also how well you did it. Each statement should include the following: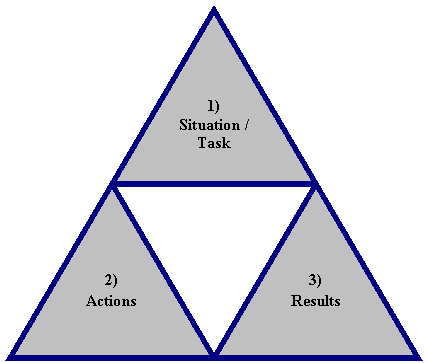 Each accomplishment statement should describe skills relevant to the police service. Practice writing these statements. Typically, accomplishment statements fall under the Work Experience, Volunteer Experience, or Education sections of your resume.
Each statement should use action verbs that emphasize and empower your accomplishment statements. Quantifying your results when you can will add impact.
Example Action Statements
1) Day Camp Counselor
| | | | |
| --- | --- | --- | --- |
| Core Competency | Situation / Task | Action | Result |
| Developing Others, Cooperation, Concern for Safety, Assertiveness, Community Service, Communication. | Field trips as a day camp counselor. | Instruction and supervision. | Ensured safety of 60 children with fellow counselors. |
"Supervised and instructed 60 young children on field trips ensuring their safety and enjoyment with a team of fellow counselors."
2) Retail / Grocery
| | | | |
| --- | --- | --- | --- |
| Core Competency | Situation / Task | Action | Result |
| Work Organization, Communication, Negotiation / Facilitation | Controlling Inventory. | Organized units and placed orders (quantified) | Diverse customer's needs anticipated and satisfied. |
"Organized shelving units and placed orders in excess of $20,00 ensuring diverse customer needs were anticipated and satisfied."
3) Post-Secondary Education
| | | | |
| --- | --- | --- | --- |
| Core Competency | Situation / Task | Action | Result |
| Initiative, Achievement Orientation, Analytical Thinking, Commitment to Learning, Communication | Attending post-secondary education. | Studied sociology (or any other major) | Graduated with a strong standing, developing a core set of skills. |
"Developed analytical, presentation, computer and XXXX skills, studying sociology and graduating with a 75% average."
4) Volunteer Work
| | | | |
| --- | --- | --- | --- |
| Core Competency | Situation / Task | Action | Result |
| Initiative, Communication, Cooperation, Work Organization, Developing Others, Self-Confidence, Flexibility / Valuing Diversity, Negotiation / Facilitation, Community Service Orientation | Food drive at work. | Organized and implemented. | Raised $2,000 for needy people in the community. |
"Organized and implemented with a team of volunteers a Food Drive at work effectively raising $2,000 for needy people in the community."
Action Verbs to be used for your Accomplishment Statements
Accelerated, Accumulated, Accomplished, Acquired, Analyzed, Applied, Arranged, Assessed, Authorized, Approved

Began, Bought, Budgeted, Coached, Collected, Combined, Communicated, Conducted, Convinced, Coordinated

Developed, Directed, Discovered, Documented, Effected, Enforced, Engineered, Evaluated, Facilitated, Filed, Financed, Founded

Generated, Hired, Identified, Launched, Learned, Led, Made, Maintained, Managed, Marketed, Minimized, Monitored

Negotiated, Observed, Ordered, Performed, Perpetuated, Planned, Prepared, Presribed, Presented, Processed, Produced, Promoted, Provided

Questioned, Raised, Read, Realized, Reorganized, Repaired, Researched, Revised, Risked, Saved, Scheduled, Selected, Separated, Served, Set

Shared, Showed, Solved, Strengthened, Succeeded, Supplied, Taught, Team Built, Trained, Translated, Tutored, Uncovered, Unified, Utilized, Won, Wrote
Principle 3 - Make it Easy to Read
Police recruiters look at thousands of resumes each year. They do not necessarily spend a lot of time on each one. This means your resume has only a few minutes to prove that you are a good fit for their police service. The information presented has to be immediately pertinent and easy to read. Key things you should be mindful of when finishing up your resume are:
use high quality paper
incorporate as much white space as possible so the reader is not overwhelmed
highlight only key words or positions to attract attention
use bullet points rather than paragraphs
keep font sizes between 10 and 12 pt
Language and grammar are very important to a resume and the following should be observed:
make every word count
use short, simple and concrete words that are easily understood
use strong nouns and vital verbs to add action, power and interest
avoid personal pronouns
spell check the document and always have someone else proof read the material
double check the meaning of easily confused words, i.e.:
affect (influence) vs. effect (consequence)

its (possession) vs. it's (contraction it is)

personal (private) vs. personnel (staff)

elicit (extract) vs. illicit (illegal)

then (subsequently) vs. than (used in comparison)

discreet (tactful) vs. discrete (detached)

their (ownership) vs. there (a location nearby)

allude (indirect reference) vs. elude (to evade)

to (in the direction, toward) vs. too (also, as well)

fare (charge, ticket, price) vs. fair (just, right)
A few Rules-of-Thumb
months do not need to be included in dates when the length of employment is greater than six months
part-time and full-time descriptors are generally not included
do not include names of supervisors
check with the police service you are applying to about disclosing full employment history
Review the copy of the sample resume below.
Resume Components
Name
Address Telephone Number
E-mail


Education
Educational Institution - Date
Location
Degree

Educational Institution - Date
Location
Degree


Work Experience
Company, Geographic Location - Date
Position title
- Descriptive Statement if needed
- Relevant Accomplishment Statement
- Relevant Accomplishment Statement

Company, Geographic Location - Date
Position title
- Descriptive Statement if needed
- Relevant Accomplishment Statement
- Relevant Accomplishment Statement


Examples of Optional Section Headings
- Professional Development - Awards
- Computer Skills - Summary of Qualifications
- Languages - Functional Skills
- Activities and Interests - Publications
- Volunteer Experience - Academic Achievements


John / Jane Doe (EXAMPLE)
23 King Street Toronto, Ontario M4M 1M1 (416) 555-2121
jdoe@x.com
Education
CITY COLLEGE, London
(2002-2004)
Police Investigations Diploma

Elected Class President and managed a budget of $ 5,000 and a team of 15 volunteers to deliver class social activities and educational assistance programs.

MAIN STREET Secondary School, Kingston
(1998-2002)
Honour Roll, Senior English Award
Professional Experience
You Name It Security, Toronto
(2004-present)
Security Guard

Investigated and handled property disturbances arising from a variety of situations, and resulting in reports, cautions or arrests.
Organized and implemented a neighbour watch program for clients taking a proactive role to reduce instances of break and enters in a residential complex.

Toronto Parks Department, London
(1999 - 2002)
Assistant Activity Implementer

Scheduled and implemented with a team of co-workers a variety of after school activities for 50 - 60 children.
Assisted children from diverse cultural backgounds with a variety of problems such as schoolwork, bullying and loneliness.

Volunteer

Thanksgiving Food Drive - annually delivering food to needy people throughout the community
Children's Aid Society - Special Buddy Program (2002-2004)
City College Orientation Leader, (2004)

Interests

Shodan Black Belt in Jiu Jitsu, running, weight training, snowboarding, rock climbing, white water rafting, sport parachuting, water skiing and SCUBA diving.
Piano Royal Conservatory Grade 5. Guitar - Introductory lessons.

Computer Skills

Excel, WordPerfect, PowerPoint
Internet development, Outlook
Your Cover Letter
A cover letter can be an important introduction that highlights your key accomplishments as to why you would be a good fit for a particular job. Each cover letter should be specifically tailored to the job you are applying, as the key attributes you highlight, should be the most relevant attributes for the position you are applying. A cover letter does the following:
Lets the employer know the type of position you are seeking.
Highlights how you are qualified for the position.
Explains any gaps that may exist in your resume.
Cover letters should be short, concise and make it easy for the reader to pull out relevant information. If it is printed, it should be at most one page, while electronic versions should be kept even shorter. As with a resume and any other documents you produce for your potential employer, a cover letter should be thoroughly checked for any typos, spelling mistakes or grammatical errors.
Suggested Format
Make sure you break your cover letter into paragraphs and remember, the purpose is not to squeeze as much information onto the paper as possible. You want to be clear and focus on the key attributes you offer and the reasons you would be a good fit for the organization.
Header

The header should include your name and contact information. An address, phone number and email address should be included. Immediately following your personal information, should be a greeting to the person whom you are addressing the letter.

Sgt. Button
Recruiting Unit
X Police Sevice

Opening Paragraph

You want to indicate the purpose of the letter correspondence and get the recruiters interest in you personally. What can make you unique compared to all other applicants submitting their information. Personalizing the message with an experience related to the position can make your application more memorable get the interest of the recruiter.

Weak Opening:

I am writing to apply for a position as a police officer with the X Police Service.

Stronger Opening:

I have always been an active member in my community and I wish to apply the education I have received along with my work and volunteer experience to a career as a police officer with the X Police Service.

To finish off the opening paragraph, add another sentence or two about why you would be passionate about this career. Make it related to your personal experience so that it stands out and does not sound generic.

Paragraph 2

You should highlight the three most important skills or attributes that you believe you have to offer the organization to which you are applying. These competencies should be related to what they are seeking. This should not be an extensive list, nor repeat everything in your resume. Bullet points would be useful to make the key points stand out, with a quick sentence or two reinforcing the point.

Example:

Having completed my diploma in "X" and working as an account representative, I have developed many skills which I could apply to a career in policing.
Communication Skills - I have had to make presentations to clients, facilitate discussions to resolve issues and manage complaints when clients were not happy. I am a strong communicator who listens to multiple viewpoints before evaluating and forming a strategy to resolve an issue.
Teamwork Skills - ...
Organization Skills - ...
You should review the competencies that the organization you are applying to is looking for, and select the three competencies that you can best highlight with personal experience to support your claims.

Paragraph 3

It is useful to indicate why you want this position, again highlighting how you would be a valuable asset to the organization. Make it clearly relate to the specific organization as much as possible.

Example:

Having grown up and lived in CITYX my whole life, I am extremely passionate to pursue a career here. I have completed my education and have enough life experience at this stage, that I am ready to challenge myself with this role. I understand that a career as a police officer can be challenging, but believe it is important to give back to the community and would wish to do so by serving as an officer with X Police Service.

The third paragraph may also positively explain any relevant gaps in your resume. If there is a large employment gap, you should briefly explain it.

Paragraph 4

This should be a brief paragraph thanking them in advance for their time and requesting further action in the form of a meeting or interview. Be police and respectful, and understand that this may be a lengthy process, but requesting an interview or next step indicates that you are proactive.

Many applicants have difficulty being patient with recruiters when they are applying and the process is taking longer than they expected. It is all right to call and request an update on the status of your application so long as you are not contacting them too often. If they do not provide an adequate answer, or indicate that a decision hasn't been made at this time, ask them before you hang up, when you should follow up if you do not hear back. Note the date they advise and wait until then to call back. This will help with your anxiety about the situation.

Example:

I have passed all of the required testing and would look forward to having an interview to further demonstrate why I would be a suitable candidate for the next intake. I want to thank you in advance for your time.

Yours sincerely,

(signed)

John Smith
Additional Tips
Address it to a named individual if possible.
Keep the letter positive, there is no need to mention anything negative.
Tailor it to the particular set of skills the employer is looking for.
Keep it simple. Do not try to include every piece of data from your resume.
Use bullet points for key pieces of information.
Make it clear how you will add value to the organization.